Perhaps, as a single gal or guy, you were bothered or uninterested in another gal or guy-- an easy out? "I have a boyfriend/girlfriend." I know that I've used the excuse before. But what happens when the news gets public? If you're just an average schmoe, like myself, it really doesn't matter I suppose. If you are a college football player seeking a first round draft pick into the NFL, it could matter.
Manti Te'o was a linebacker at Notre Dame who led his football team to glory. Te'o, in his last season at ND, struggled through personal setbacks to lead his team to the finals. It was on the day that his grandmother and his "girlfriend" died that he and his team upset Michigan State, 20-3, and Te'o recorded 12 tackles. Motivational, inspirational-- to say the least.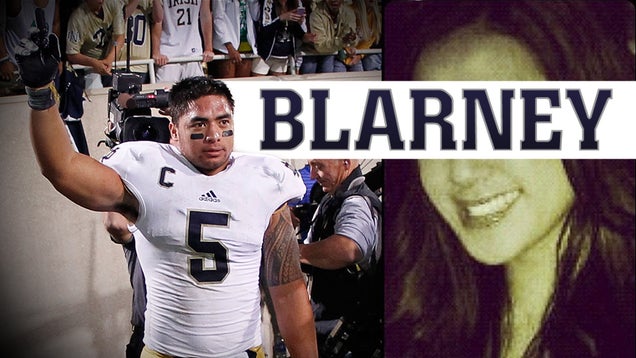 A Timeline of Te'o & Kekua:
2009: Te'o and said girlfriend, Lennay Kekua, meet after Stanford-Notre Dame game in Palo Alto. Kekua attends school at Stanford.
2010-2011: Kekua would occasionally visit in Hawaii.
2012: Te'o and Kekua are a couple and talk nightly. Kekua has a car accident experiencing critical injuries. Kekua recovers from car accident and is diagnosed with leukemia. She has a bone-marrow transplant. Her condition improves. She graduates from Stanford. Health becomes poor and she enters treatment. Kekua is released from the hospital. On Sept. 11, Te'o's grandmother passes away. Kekua gives her condolences to the Te'o family. Later, Te'o is informed Kekua dies that same day. On Sept. 22, Kekua's funeral takes place. Te'o does not attend funeral, saying that she had insisted he not miss a game on behalf of her. Te'o beat Michigan, 13-6, in which Te'o had two interceptions.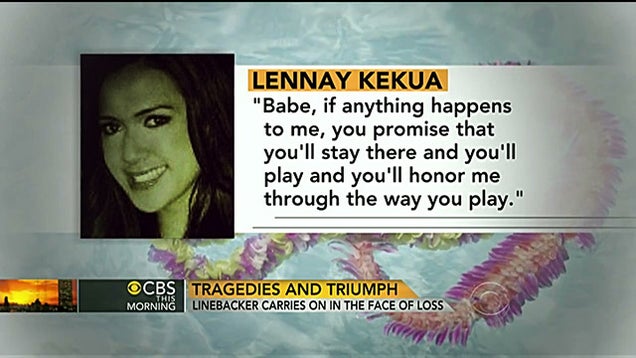 Notre Dame responded:
On Dec. 26, Notre Dame coaches were informed by Manti Te'o and his parents that Manti had been the victim of what appears to be a hoax in which someone using the fictitious name Lennay Kekua apparently ingratiated herself with Manti and then conspired with others to lead him to believe she had tragically died of leukemia. The University immediately initiated an investigation to assist Manti and his family in discovering the motive for and nature of this hoax. While the proper authorities will continue to investigate this troubling matter, this appears to be, at a minimum, a sad and very cruel deception to entertain its perpetrators.
Te'o responded later that he was embarrassed to admit he had a serious relationship with a woman who he had never met in person, but only via the internet and telephone. Still, he assures us that he did in fact believe she was a real person and that he cared for her.
So... was Te'o a victim to a hoax? Or did Te'o plan the hoax?
Does it matter either way? Perhaps, it matter's only to know what kind of person Te'o is. That is if he planned the hoax then one could judge him poorly. Otherwise, if he were the victim of the hoax, we may feel even worse for the guy.
The hoax, which really effected nobody but Te'o, became a public report due to the fact that Te'o had a standout season and led Notre Dame to a season that the school hadn't experienced in a decade. His story was heartbreaking and that may have made it even more inspiring. But would his story have been any less spectacular had there been no hoax? As mentioned, Notre Dame had not had a great season in several years and there was not much of an expectation for them in this past season. If there had been no hoax, Te'o still would have become popular, assuming he had just as great a season. In my opinion, the hoax brought negative attention and negative opinions of Te'o. If the hoax did not occur, the NFL would still be addressing Te'o as a potential prospect because he is a great football player.
People have opinions on everything, so of course, this was no different. I wonder if people would have been less angered or bothered if the hoax existed but had not involved cancer. Many people have suffered or know someone who had suffered from cancer and so it hits home to a lot of people. For someone so young having to deal with such an illness can be painful to watch. Yet, through the adversity Te'o flourished and that may have helped others. Does this hoax change that? If it helped someone through a tough time, then maybe it was effective. Te'o wrote a letter to a family whose daughter was suffering from cancer and inspired the family. If the family was motivated and kept faith and hope, then does it matter if what he wrote in that letter was true or not?
I think that people have a dire need for the truth, and so I think that it does matter whether Te'o really suffered or struggled through as much as he had said he did. It is possible that many were offended by such an outrageous story due to degree of the circumstances.