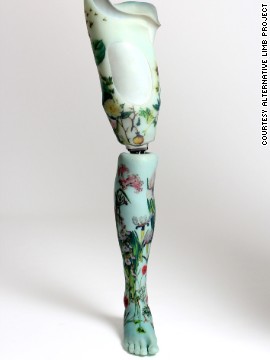 While taking a study break, I came across an article where prosthetic limbs "push boundaries of art." Now I always thought of prosthetic limbs as plastic parts which kind of look plain, really. I always admire the people who have gone through this procedure because it requires such an enormous amount of will. This being said, don't you think they deserve a kick-ass prosthetic arm/leg/hand to replace what was lost?
This CNN article
about different limbs is called "Snake arms and crystal legs: Artificial limbs push boundaries of art." By Sheena McKenzie, it describes the various prosthetic limbs of a few people in the world. The Alternative Limb Project is mentioned as well. Basically what they do is turn the prosthetic limb into a piece of art.
What I find interesting on the website for the
Alternative Limb Project
is the "options" tab on the left hand side. Sophie, the creator of these limbs, gives us three options; 1)Real, 2)Surreal, or 3)Unreal. There are pictures above each label which let you know each kind of limb Sophie is talking about. I think Descartes would have a hard time accepting these labels. For example, his idea of sensory perception making something "real," or for it to exist would challenge these picture and word combinations. If I could describe each limb, then they are real because I am able to use words to describe them. Although this idea is repetitive, it does challenge the ideas of Descartes a bit.